"As a Pakistani Muslim Woman who grew up in Dubai, I took my life into my own hands and transformed my life into the one I always wanted"
Get Your Life Back on Track
I became one of the most sought-after Integrated Clinical Hypnotherapist and Life Coach for Women in the Middle-East by embracing my strength as a woman and Leader of Change. I defied all odds, so can you. Download my free e-book and find out how:
By clicking the button above, you agree to receive information from samarshera.com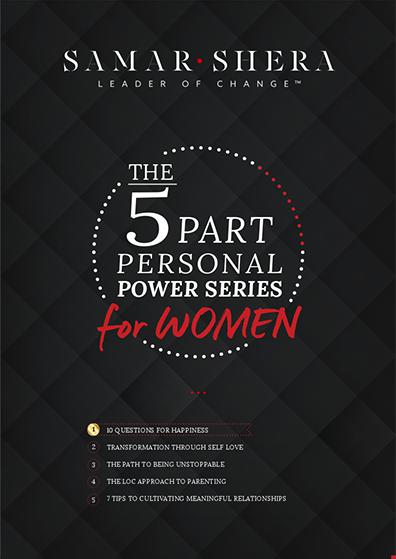 The 5-Part Personal Power Series for Women
About Samar Shera
By profession, Shera is a Co-Active Coach, is 'Train-the-Trainer' certified by Jack Canfield, Integrated Clinical Hypnotherapist and currently pursuing a Doctorate in Existential Psychotherapy and Counseling. She is certified in several energy modalities such as the Law of Attraction, Reiki and Theta Healing. Shera facilitates weekly workshops for women and men to live a life of their highest potential.
What other's have to say about Samar:
Hover over the images above to see what Samar's clients are saying.

"I love lessons, whether its while reading a good book or meeting someone who shares their vision of the world. Samar was born to be heard! Wisdom way beyond her years, her words, her advice and her guidance… But mostly her way! She resonates a familiarity, a positivity and optimism."
Roopam Attari

"When Samar asked me to write a small testimonial I was wondering where I would start as she is most probably one of the most exceptional woman I have ever met. She is for starters super gorgeous and when shes engaged in conversation she always listens and makes you feel like you are the only one on the planet. Samar is an exceptional healer and I have also done quite a few workshops with her. During these workshops incredible healing took place. She handles herself and her clients with effortless charm and sails through whatever is thrown at her. She is incredibly intuitive and combine that with her photographic memory she is basically a walking Google that can not only solve physical issues but also metaphysical issues in seconds. Samar has a huge huge heart and very powerful healing capabilities. With much love."
Leonorah Boulder

"Samar was highly recommended to me by a friend as a hypnotherapist. It was a true eye opener for me. My true healing came in the days and weeks that followed when I could see the positive effects that just one session had. It was clear that Samar is very experienced and is very confident and comfortable with what she does. I went back for a second session and I can truly say that it has made a big difference and it brought healing and awareness to myself and my surroundings. Her positive attitude for life and always finding a solution is very refreshing. Lots of love."
Aneesa Safodien

"I had tremendous learning from Samar's experience and we all had a blast working together and discussing spiritual subjects. I would say that the discussions led to some kind of healing and self understanding. What I love about Samar is her strong passion and dedication to her work. She really knows what she wants and she tries to achieve it with lots of perseverance and long hours of work. We all know in advance that the book she is working on is definitely going to be a success 'cause whatever she does is coming from the heart with lots of LOVE. Good Luck Samar in everything you do and please remember us when you hit stardom. Lots of Love and kisses."
Donna Helou

"I came to Samar with an issue that I was facing in my business, we had few sessions, with her help, I was able to go back to my inner child and retrieve incidents that was erased completely from my memory, she handled the issues professionally, I felt like a heavy stone was taken away off my chest and started breathing again. That was a life changing situation, I would like to thank Samar and wish her all the best in her endeavours. Atma Namaste"
Bassam N Saab

"Within our first meeting I could tell Samar had a incredible hunger for helping others through personal development. This hunger embedded with passion, purpose and an extraordinary talent bring credible results for her clients. Samar's real life experience contributes towards her clients reaching new heights, auspicious personality is contagious."
Ali Habib