Products
Coming Soon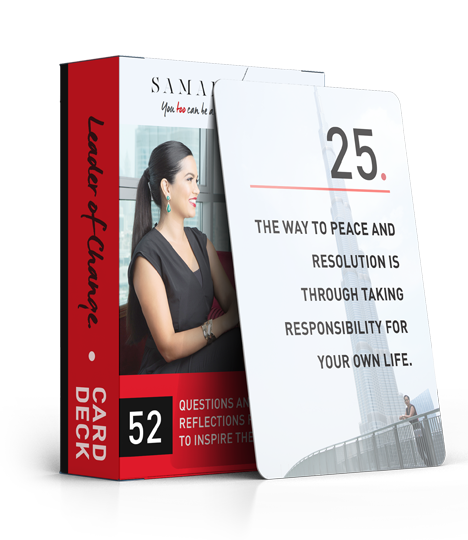 Coming soon, Samar Shera presents the LEADER of CHANGE inspirational card deck, conceptualized from Samar's philosophy that you can take the lead in your life and make the changes necessary to live in love and light.
This high-concept, elegant and creative deck highlights a wealth of heartfelt anecdotes culled from Samar's personal life experiences and professional international workshops. The L.O.C. inspirational card deck includes 52 cards—many of which highlight 4-color photos of passionate women from all walks of life and from around the world. Scattered throughout are reflection cards, which challenge you to look within yourself and take personal inventory. Also included is a guide book to help you maximize your user experience!
Whether you pull out a card to take with you to work or display one of the beautiful images at home using the easel provided in the package, the L.O.C. inspirational card deck is Samar's commitment to you: To remind yourself that you have the power to create and attract the life you thought you could only dream of.
---
Samar Shera